Spready Mercury to battle Cumbria's winter ice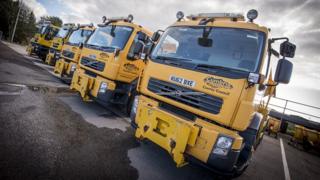 Spready Mercury and Gritty Gritty Bang Bang will be taking to Cumbria's roads this winter after being chosen among the new names for the county's fleet of gritters.
They will join David Ploughie, Usain Salt and Gritany Spears.
Eleven of the authority's 38 gritters are to be given names following Twitter polls run by Cumbria County Council.
Suggestions which were not selected included Brad Grit, Bay Gritty Roller and Nitty Gritty.
The list of winning names also included Gritter Garbo, Gritty McVitie, Ready Spready Go, True Grit, Nicole Saltslinger and Whinlatter Scatter.
Two-hundred monikers were initially put forward.
A number of councils across the country have conducted similar public votes.
Last month Shropshire Council announced Gritty McGritface and Frosty the Snow Van were among its winners.