Former Witherslack Hall staff deny child cruelty charges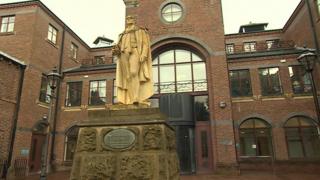 A man who was a pupil at a former Cumbrian residential school has told a court how he was "punched" in the face by different teachers.
Peter Taylor described one of five men accused of historical assaults at Witherslack Hall School in Grange-over-Sands as a "very brutal man".
The five former employees are said to have committed criminal acts against four males during the 1970s and 1980s.
Carlisle Crown Court heard the five men deny all charges.
Taking cigarettes
Roger Whitehouse, 78, of Haverigg, has pleaded not guilty to two charges of assault causing actual bodily harm, and two charges of child cruelty.
Andrew Elliot, 68, of Greatford, Lincolnshire; Michael Lynch, 72, of Kirkhead Road, Grange-over-Sands; and Glyn Waterhouse, 62, of Stainton, near Kendal; all deny charges of assault causing actual bodily harm.
Alec Greening, 69, of Dalton, near Burton-in-Kendal, denies one charge of child cruelty.
Mr Taylor told the court that he was assaulted by former teacher Roger Whitehouse after taking cigarettes from a staff room.
'Don't hit me'
He said: "He [Mr Whitehouse] punched me in the face and then beat me with a strap or a belt.
"He was absolutely going berserk on me. I was begging him, 'please sir, don't hit me sir'."
Mr Taylor said fellow teacher Michael Lynch punched him in the face with a clenched fist, knocked him to the floor and kicked him repeatedly.
He also accused former teacher Alec Greening of making him wear a PE kit in the snow as punishment for smoking.
The trial continues.