Friends get 10-year contact ban after Wigton bar brawl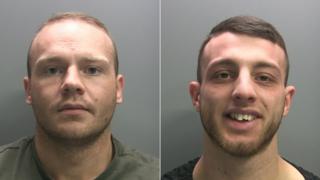 Two friends involved in "wild west" violence outside a Cumbrian social club, have been banned from contacting each other for 10 years by a judge.
Kane Hull, 25 and Callum Kerr, 23, were jailed for their part in violence that erupted at West Street Social Club in Wigton in October.
The pair admitted possessing offensive weapons and affray at Carlisle Crown Court.
Judge Peter Davies dismissed claims their friendship had been criminalised.
The court heard trouble flared after Hull was head butted outside the venue on the evening of 13 October. He later went into the club armed with a bottle and accompanied by Kerr who had a knife.
A resulting brawl led to several people being injured, although no-one was seriously hurt, the court was told.
Kerr, of no fixed address, was jailed for three years, while Hull, of Aglionby, near Carlisle, was sentenced to two-and-a-half years.
The prosecution asked that the pair, who the court heard had both been in trouble before, be made subject to strict criminal behaviour orders.
Hull was ordered not enter Wigton or any licensed premises in the Botchergate area of Carlisle, and was barred from contacting Kerr in any way - including by social media and through third parties - for 10 years.
Kerr's lawyer, Josh Bowker, asked for the order to be relaxed, adding: "They have been friends for six or seven years. This is the first offence they have been involved in together.
"It would not be proportionate or necessary to criminalise friendship."
But the judge said: "I would have thought it was in his interests - and in his positive interests - that he shouldn't contact Mr Hull."
Addressing Kerr, he added: "It is part of the punishment and is also there to assist you, because you know where your boundaries are now, don't you?"