Sinkhole 'swallowed' Cumbrian farmer on quad bike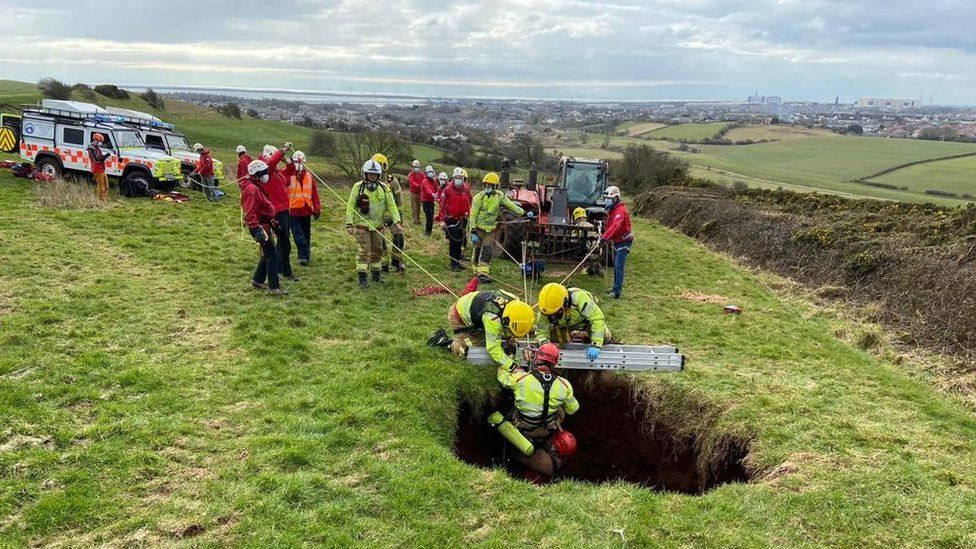 A farmer has been pulled to safety from a 60ft (18m) sinkhole which "swallowed" him and the quad bike he was riding.
The ground opened up as he rode across a field at Bowesfield Farm in Stank, south Cumbria, on Thursday.
He was recovered using ropes and pulley systems in an operation involving fire crew and mountain rescue volunteers.
The man, in his seventies, was then airlifted to hospital for treatment to chest and back injuries.
Ian Westall of Cumbria Fire and Rescue Service said they were called out at 12:00 GMT.
"The ground just fell away with the weight of the bike on that particular spot and he was swallowed up into the sinkhole", he said.
"We peered down and could see the farmer sat up, and we could just make out the outline of his bike under a mound of earth. I'm sure he was in deep shock."
The opening was about 8ft (2m) wide at the top, but below that opened up "like a wine carafe" which posed additional risk to rescuers, Mr Westall said.
"You've got a lip at the top which went down into a narrow throat, and then there was a large bulbous bottom which opened up 10m (33ft) in one direction and 4m (13ft) in the other.
"Obviously, with unstable ground and people on the surface unsighted, there was an inherent risk."
John Wealthall, from the Duddon and Furness Mountain Rescue Team, described it as "out of the scope of our normal rescues".
The main concern was keeping the rescuers properly roped and securely attached amid concerns another sinkhole could appear.
Of the farmer, he said: "Amazingly he wasn't too badly hurt.
"He had chest pains and quite severe pains in his back and after being assessed by ambulance crew was airlifted to hospital.
"I assume the quad bike has taken quite a lot of the impact on going down, so he has been extremely lucky."
There are a number of early 19th Century disused iron ore mines in the area, making sinkholes an ever-present danger.
Related Internet Links
The BBC is not responsible for the content of external sites.