Cleator Moor runner hits halfway in 110-marathon challenge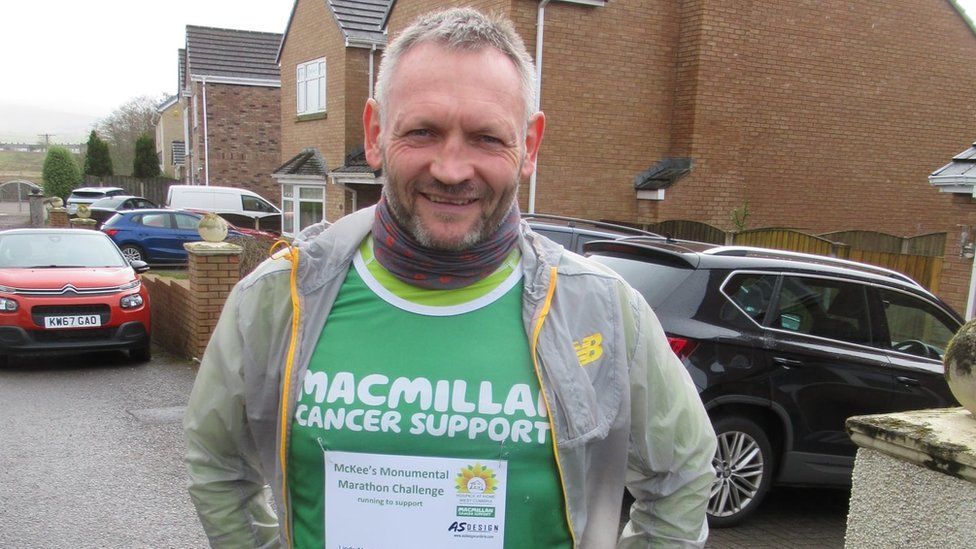 A runner who is aiming to complete 110 marathons in 110 days has reached the halfway point of his challenge.
Gary McKee, 51, has already raised more than £54,000 for Macmillan Cancer Support and West Cumbria Hospice at Home through his efforts.
He ran his first marathon on 1 February and aims to complete the last on 21 May.
Mr McKee has been running the same 26.2 mile (42km) route around his home in Cleator Moor in memory of his father.
The runner's children Alfie, 16, Beau, 13, and Minnie, eight, have also been taking part with daily exercise bike challenges.
Mr McKee said: "I can't thank people enough for their generosity, especially during a lockdown that has caused so much economic and social hardship.
"People have said to me that my father, who was diagnosed with cancer and is no longer alive, would be very proud of me which is lovely, but I'm only really getting a true understanding of that through pride in my own kids."
Mr McKee's friends Kevin Hetherington and Michael Watson have also been joining him for some of his runs, with Mr Hetherington raising £11,000 with the aim of completing 55 marathons.
Mr McKee's son Alfie and nephew Stuart McKee are halfway through cycling 110 marathons in 110 days and have so far raised more than £1,000.
Sue McDonald, fundraising manager for Macmillan, said: "What Gary has done in terms of inspiring the people of Cleator Moor, the surrounding area, Cumbria at large and beyond is truly amazing.
"This is an acutely challenging time for people with cancer, the NHS and for cancer care and Macmillan is here to do whatever it takes to support people with cancer.
"So, on behalf of all those we've helped - thank you Gary McKee and family."
Related Internet Links
The BBC is not responsible for the content of external sites.