Lake District fells project more needed than ever, officials say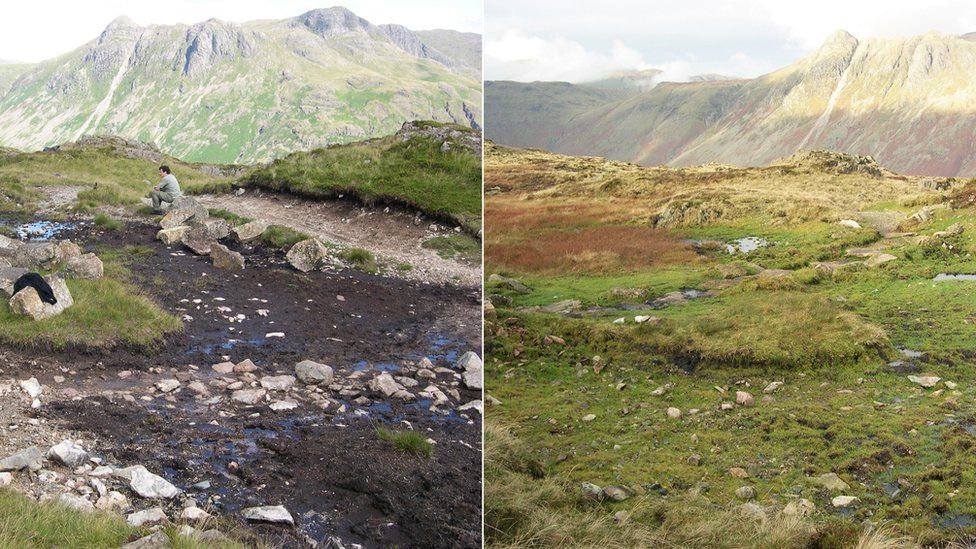 Officials behind a group set up to protect the Lake District landscape and wildlife say its work is more needed than ever, as it marks its 20th year.
Two decades ago, scars and gullies caused by erosion due to countryside users and heavy rainfall were a common feature of the landscape.
As well as being unsightly, they could also be damaging to local wildlife.
Since its formation on 18 August 2001, Fix the Fells has repaired hundreds of paths and worn areas.
Fix the Fells, a partnership programme between the National Trust, Lake District National Park, Natural England, Lake District Foundation and Friends of the Lake District, was set up initially with Heritage Lottery Funding.
It now relies on grants and donations for the £500,000 spent in a typical year on repairs, with every metre of path costing £150 to create.
Programme manager Joanne Backshall said: "We need support now more than ever to keep on top of the amount of repairs required on the upland paths.
"It's hard to imagine how some of the fells would look today if we hadn't been able to start protecting this very special area of Britain.
"Excessive erosion to popular walking routes doesn't just leave a visual impact on the landscape it also affects wildlife.
"Once vegetation is lost through erosion, soil and stone can quickly wash off the hillside."
She added that general loss of habitat could affect rare mountain plants and animals already at risk.
Richard Leafe, the Lake District National Park Authority's chief executive, said: "Due to our changing climate and more erosion through intense rainfall, this vital maintenance work is needed on our high fells more than ever.
"We know how important the Lake District has been over the course of the pandemic as we have welcomed many new visitors over the past year.
"As more people come to enjoy all the health and wellbeing benefits the Lake District has to offer, we're very grateful to our colleagues at Fix the Fells and the amazing team of volunteers for all that they do."
Related Internet Links
The BBC is not responsible for the content of external sites.