Windermere: Holocaust survivor's daughter thanks rescuer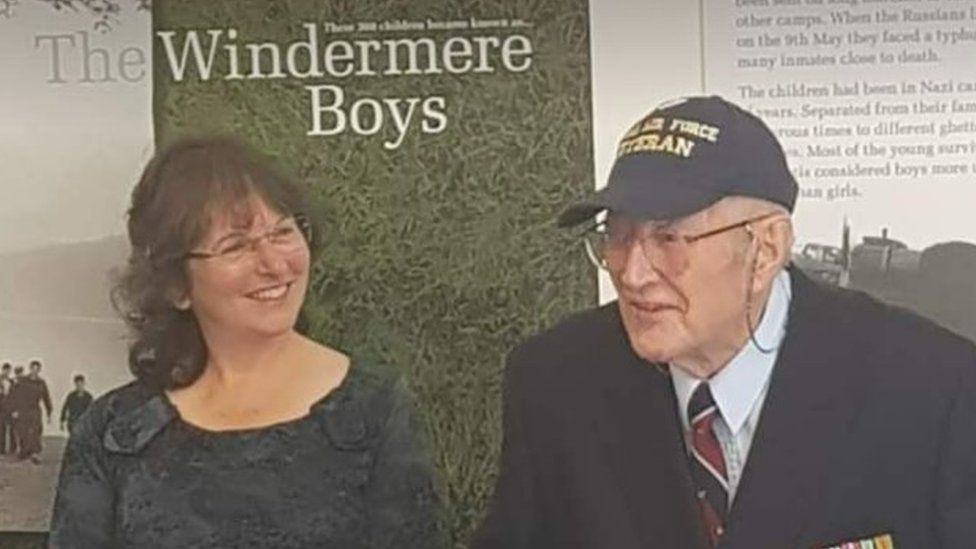 The daughter of a Holocaust survivor has met for the first time the man who helped bring her mother to a new life in England after World War Two.
Bela Rosenthal, aged three, was one of 300 children liberated from death camps and flown to the Lake District in 1945.
Seventy six years later, her daughter, Wendy Lambros, has thanked Flight Engineer Norman Shepherd, 96, in person after a chance meeting in Windermere.
Mr Shepherd had taken her mother from a "feral" to full life, Ms Lambros said.
Ms Lambros, a music teacher, was visiting The Lake District Holocaust Project when she was told that Mr Shepherd was also visiting and would like to meet her.
Mr Shepherd was just 19 when his RAF Stirling bomber flew the 300 children from Prague to Windermere.
However, it was only about three years ago that he found out what had happened to them and he has since been a regular visitor to Windermere.
Ms Lambros said: "It was a pure coincidence we were both here. It was lovely to thank him and for him to realise what he had done for the children.
"My mother was rescued by the Russian army from a death camp where she had been living a feral existence.
"The children had no experience of adults, they thought adults were bad, they didn't know what love was or what toys were.
"They had no parents and no real identity, so they came here and had to rebuild their lives, which they did."
Mr Shepherd, from Nottingham, said he was so happy to have "done some good".
He said he would never forget how the children seemed on the flight to the UK.
"They were very downtrodden but excited, the younger ones sitting on the knees of the older ones.
"They cried but then they settled down and I gave them chocolate.
"When we landed, I remember them giving me kisses, then they were taken off and that was it."
Bela, now Joanna Millan, 79, was adopted and went on to marry and have three children.
She was a magistrate for 30 years and lives in an assisted living complex in Bushey, Hertfordshire.
Ms Lambros said the recent evacuation of Afghanistan with people being flown on military planes had echoes of what her mother went through.
"It's so similar to my mother's experience, what we are seeing on the news, with civilians bundled into a plane and being taken to a better life," she said.
Related Internet Links
The BBC is not responsible for the content of external sites.