Charlotte Mason: Education pioneer was 'guiding light'
By Catherine Lee
BBC News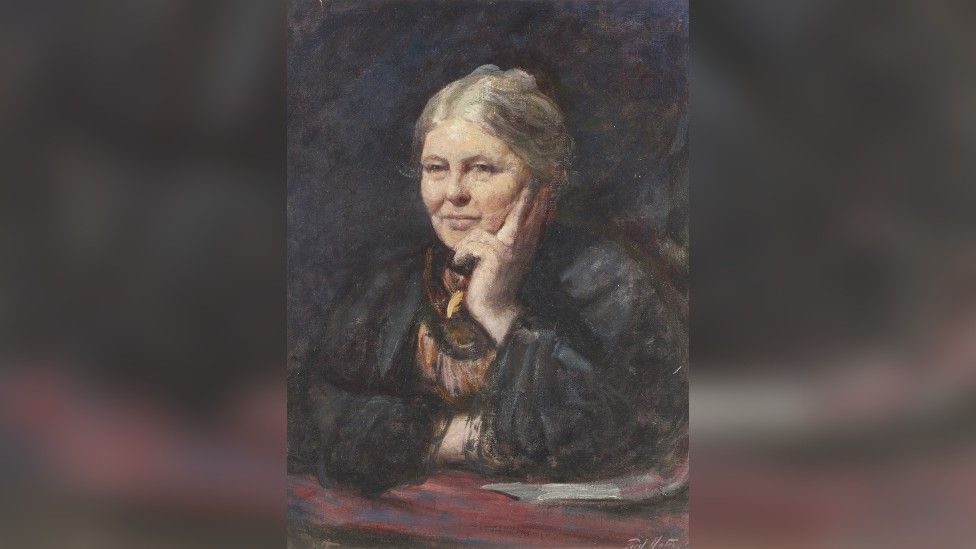 For many people 1 January is marked by "could do better" resolutions, so it is perhaps apt that today marks the 180th anniversary of the birth of a Victorian educational pioneer and reformer.
Charlotte Mason, unusually for the time, believed education should involve the whole child not just the mind.
In 1892 she founded a college in Ambleside, Cumbria, to develop modern methods of teacher training.
She also wrote what remains the definitive work on home schooling.
The Armitt Museum in Ambleside, which is the national centre for all Charlotte Mason archives, described her as a "guiding light", and said there has been a resurgence of interest in that aspect of her work due to people having to do a measure of home schooling during lockdown.
Born on 1 January 1842, near Bangor in Wales, Charlotte Marie Shaw Mason was an only child and educated mostly at home by her parents.
As a young woman, and following the death of her parents, she became a teacher, first at a school in Worthing, and later at a college in Chichester.
By her 40s she had developed a vision of a "liberal education for all", which understood and respected the academic, emotional, and spiritual needs of the child.
Faye Morrisey, manager and curator at the Armitt Museum, said: "Charlotte Mason was very radical and forward-thinking for her time.
"One of her key principles was that children were persons or people, individuals in their own right - we should see them as that and respect them as persons.
"She had a new way of approaching things, saw education as an atmosphere, a discipline, a way of life."
In the course of her lifetime Charlotte Mason wrote a series of books outlining her approach which utilised children's "natural love of learning".
They should be "fed upon the best ideas" - dubbed "mind food" - as well as facts, and there was a focus on the liberal arts, and the study of nature.
She also published a series of school geography books which became very popular and provided her with a small but regular income.
After becoming aware of the generally poor standard of the education provided by governesses, who themselves had little or no training, she wrote a book on "Home Education".
She lectured on this theme, and in 1887 a meeting in Bradford led to her founding the Parents' National Education Union (PNEU), which is still in existence today.
Her House of Education, aimed at governesses and others who worked with young children, was founded in 1892.
Ambleside was chosen as the venue because she knew the area well - she was a friend of Selina Heelis (of the family into which Beatrix Potter was later to marry), and whom she had often visited in the town.
She believed it was an ideal place to set up her training institution as students would be "impressed with the great natural beauty around them".
The Armitt Museum is located close to the former college site, and has a section dedicated to her, as well as "probably more than 60" boxes of her letters, journals, and other documents.
Its collection also includes clothing and other belongings, which give a glimpse of the person as well as the pioneer.
"Some of her dresses are lovely, quite unique," Ms Morrisey said.
"There's quite a plain governess-style dress, as well as a rather flamboyant one patterned with peacocks, which is not what you might expect."
However, it is the archives relating to home schooling which are a big draw for visitors, especially from the USA and Canada where the "Charlotte Mason method" remains popular.
"People come specifically, on a pilgrimage in a way," Ms Morrisey said.
"She's probably not a well known character outside [the home schooling field], but she was a guiding light for education."
There are hopes a special exhibition the museum is planning for 2023 to mark the centenary of her death will make more people aware of her history and story.
Ms Morrisey said: "It will enhance and showcase how she and her philosophies, principles and practices are still relevant today, even if they have been tweaked a bit to reflect modern society.
"With lockdown forcing parents to teach their children at home, some people have been reanalysing things.
"There's been a surge in people joining home schooling networks, so in a sense her work is more relevant than ever."
Related Internet Links
The BBC is not responsible for the content of external sites.