Hundreds of dead birds washed up on Solway Coast amid avian flu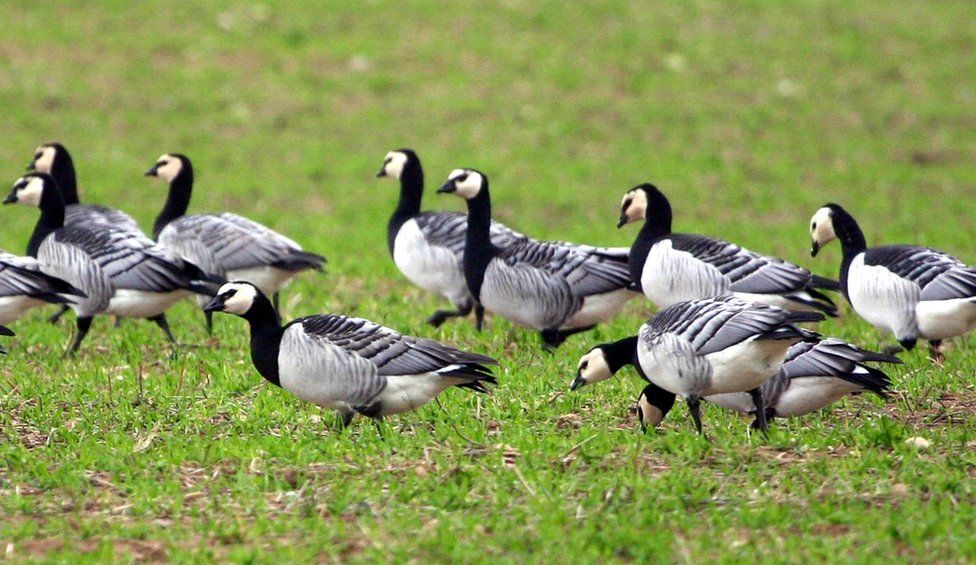 A conservationist has described how "distressing" it was to see hundreds of birds washed up on the Solway Coast, thought to have died from avian flu.
The biggest impact has been spotted in Barnacle geese populations, where up to 16,000 birds have died in the UK since the first was reported in November.
Dave Blackledge, from RSPB Cumbria Coast Reserves, said he was concerned about the impact on geese numbers.
"There have been dead birds littered around the Solway at high tides and dozens and hundreds sometimes of birds being washed up," said Mr Blackledge, whose team counts the number of birds daily.
"After all the hard conservation work that has gone in over the years it is difficult to see this decline in the birds to such an extent."
Dr Christine Middlemiss, UK Chief Veterinary Officer, has urged people who keep birds to avoid contact with those in the wild.
"The absolute key action is about biosecurity, about being clean and making sure that there's no possibility of contact, either direct or indirect, between the wild birds and your kept birds," she added.
David Brass, chief executive of the Lakes Free Range Egg Company, has kept his 130,000 birds in lockdown since November to protect them against avian flu. They produce about 10 million eggs a week.
He told the BBC how catastrophic it could be if the disease entered a shed of 32,000 birds, which are separated in two units.
"Day one - 20 birds dead; Day two - maybe 60 to a couple of hundred. Once you get to day five there are none left - it's devastating," he said
Under government guidelines eggs can still be labelled free range until mid-March. Mr Brass is hopeful the birds will be able to be released soon after, but returning them to lockdown next year is already on his mind
"For the first few weeks it can be a real problem - they crowd around the pop-holes because they are wanting to be outside and they can suffocate in big heaps if you are not careful.
"It's not something we do with a light heart to be absolutely honest.
"It's the welfare of your birds and what is best for them, and right at the moment being outside isn't the best for them."
Experts hope infection levels will fall as the weather warms and migrating birds return to breeding grounds.
Related Internet Links
The BBC is not responsible for the content of external sites.