Hexham Abbey hosts Swedish Sankta Lucia festival of light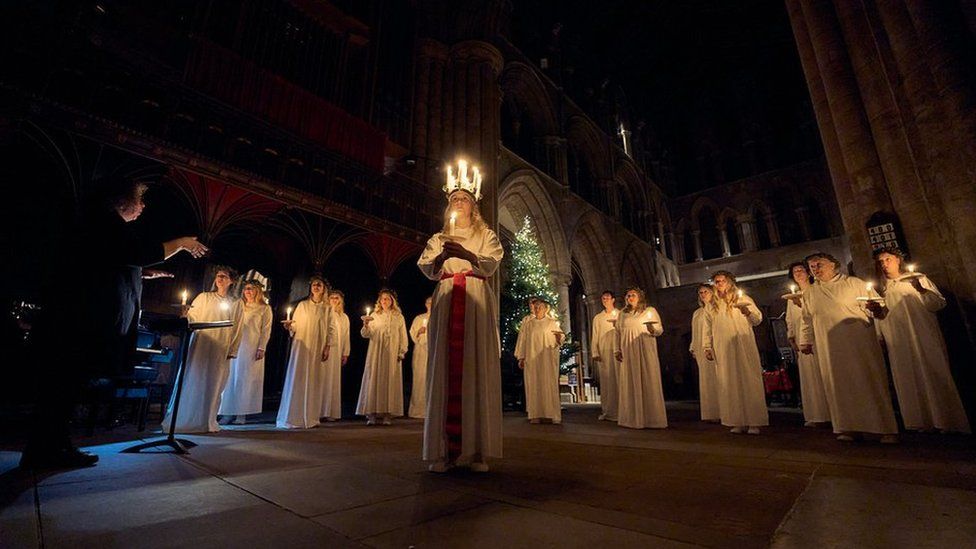 Swedes from across the north-east of England have celebrated the traditional Scandinavian festival of Sankta Lucia.
The event returned to Hexham Abbey for the first time since 2019, after a hiatus forced by Covid restrictions.
Twenty-five singers from the London Nordic Choir performed in the abbey for the first time.
Organiser Katrin Auld said it was "such a tradition and lovely thing, one of those things that you miss from your home country".
The traditional winter event, officially held on 13 December, is shown live on Swedish television from a major church with individuals and families celebrating around the country.
"The base of it is to bring light because it's very dark in Sweden," Ms Auld said.
"At this time you barely get hours of daylight."
Sankta Lucia - or Saint Lucia - merged the pagan tradition of sharing food and light with the story of an Italian martyr, Lucia, bringing food to persecuted Christians, wearing candles on her head so she could carry more.
This was reflected in members of the choir processing around the abbey dressed in white gowns, carrying candles and singing traditional Swedish carols.
"The abbey's completely dark as well so it's quite striking," Ms Auld said.
They now use specific candles that channel the melted wax down inside the candle itself to avoid drips.
"I remember when we didn't have those candles you did get a bit in your hair," she said.
The festival attracts audiences from Cumbria, Tyneside, Wearside, Scotland and, this year, France.
Kerstin Colliander-Metzler, who moved to England from Sweden 26 years ago, travelled from Carlisle.
She said the tradition was "filled with memories" and made her feel nostalgic.
"We have all grown up with it, it's very special," she said.
"It's so dark in Sweden at the time so it's so lovely with all these lights."
Ms Colliander-Metzler, who married an Englishman, said "people become more patriotic when they move abroad" and there was a group of Swedes living across the North who would meet for dinner after the traditional festival.
"The ones of us who have young children, it's extremely important to carry it on," she said.
"This one in particular, it's kind of magic."
Sankta Lucia first took place in the abbey in 2017 but was halted by the pandemic, while Brexit has brought administrative and logistical problems.
Funding from Sweden and the EU is no longer available so tickets have had to be sold for the first time.
Ms Auld said organising "something cultural from another country" was very important for UK-based Swedes and more so now "to show after Brexit that we share things".
Related Internet Links
The BBC is not responsible for the content of external sites.