Derby Market Hall to get £500,000 roof repairs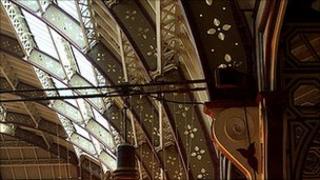 A Derby landmark is to undergo repairs costing more than £500,000.
A recent report said £2m of work was needed to the 19th Century Market Hall's copper roof and stonework.
But the city council said that with the current pressure on budgets, only the most essential repairs were being carried out.
Most if the work will take place at night allowing the hall to remain open during the project, which is expected to take about six months.
Councillor Matthew Holmes said they had budgeted for "significant" repairs.
"We need to take action now but it is not dangerous. If it was we would not allow the public in or the traders to trade.
"What we need to do is preempt that and make the changes so everyone can continue trading.
"It is a great building and we want to support the traders."