Trent Barton may withdraw route from Derby bus station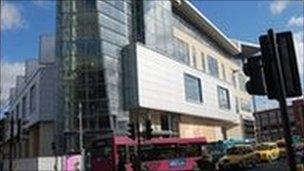 A bus firm could be about to withdraw one of its services from Derby's new bus station because it believes the building's location is causing delays.
Trent Barton began a public consultation in July about moving the Mickleover service from the station to its former stop on Albert Street.
The bus company said responses so far indicate a huge majority of people are backing the change.
A decision is due to be made in the coming week.
Trent Barton said: "We have been experiencing some severe time-keeping issues on the Mickleover recently for which we are really sorry.
"This has been caused by several sets of road works on the route and, potentially, also the extension of the route to serve the new bus station.
"We have been doing all we can to reduce any delays by putting extra buses and drivers out to try and maintain the timetable, but we need a solution so that we can deliver a reliable service for our customers."
Related Internet Links
The BBC is not responsible for the content of external sites.