Repairs needed to historic Derby rail bridge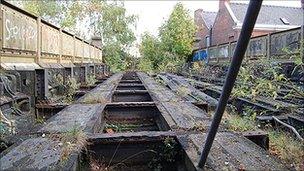 A 130-year-old bridge in Derby need repairs by the city council, according to a local historian.
Derek Palmer said the Friar Gate disused railway bridge should be better maintained or it would be ruined.
Derby City Council said it would cost nearly £500,000 to completely restore the bridge, but it had had some structural repairs in 2009.
The ornately decorated bridge is rusty and has both damp and some holes in it, Mr Palmer said.
Mr Palmer said the condition of the bridge was "a bit of a disgrace" and needed more than a coat of paint to save it.
The bridge was built in 1878 and was used to take holidaymakers to Skegness until the 1960s.
It served the former Friar Gate railway station, which was in service from 1878 to 1964.
The double, cast iron bridge was made for the Great Northern Railway by Andrew Handyside.
Mr Palmer suggested the city council consider allowing a sponsor to paint the bridge.