Absconder highlights 'failings' at HMP Sudbury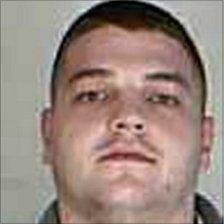 The Prison Officers Association (POA) has said "weaknesses in the system" allowed a convicted killer to abscond from an open prison in Derbyshire.
Ashley Squires, 27, failed to return to HMP Sudbury over the weekend.
He was jailed for 12 years in 2006 for the manslaughter of a farmer who he ran over while stealing his Land Rover.
The POA believes too many inmates are not assessed properly before being sent to Sudbury, but the Prison Service said it carries out "rigorous" checks.
Squires, from Leicester, ran over William Boffey as the 61-year-old tried to stop the theft at his Warwickshire farm in 2005. He had recently served time in prison for theft offences and was was out on licence at the time.
He admitted the manslaughter charge, and was moved to HMP Sudbury after serving four years of his sentence.
A spokesperson for the Prison Service said he had been released on temporary licence when he failed to return for the evening roll call on Saturday.
Numerous prisoners have absconded from Sudbury in recent years, including several convicted murderers.
POA spokesman Glyn Travis said: "The pressure on the Prison Service to fill open prison places is immense. Sudbury over the last two or three years has had a high record of absconds.
"Staff at Sudbury have constantly raised concerns about too many inappropriate prisoners being forced through the system before they are due to go over."
He said some inmates are not correctly risk managed, and that the latest case "reaffirmed that changes need to be made".
In a statement, the Prison Service said: "Prisoners may be released on temporary licence providing they meet strict criteria and pass a rigorous risk assessment.
"Only those assessed as representing minimal risk of escape or risk of harm to the public are eligible."
Release on temporary licence is used to prepare prisoners for their eventual release from custody and is "essential" for successful resettlement, it added.
Related Internet Links
The BBC is not responsible for the content of external sites.