Celanese shuts part of factory with loss of 350 jobs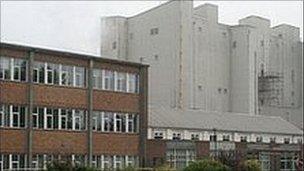 Dozens of jobs at a Derby factory have been saved but more than 350 are still going, it has been confirmed.
Earlier this year Celanese said it was looking to close its Spondon factory because of high operating costs.
Now an £8m investment means the part making wrapping film will stay - saving 70 jobs - but the larger cigarette filter manufacturing area will close.
The Unite union said there had been extensive talks and it was encouraging some jobs had been saved.
Most of the jobs are likely to go by the end of the year and those affected have been promised help with finding new employment.
Chris Margot from Unite said: "They have looked into keeping Clarifoil in Derby and the managers and the team have done an excellent job in keeping it here.
"It could easily have been moved to another site in the world."
The company, which dates back to 1916, once employed 20,000 people in the area.
Related Internet Links
The BBC is not responsible for the content of external sites.