Roof-row builder 'confronted Pc with chainsaw'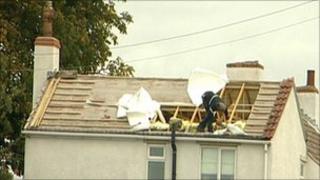 A police officer was confronted by a chainsaw-wielding builder who was tearing down a roof in Derbyshire in a dispute over a bill, a court has heard.
Royden Toon and his son Gavin were cleared of causing criminal damage in Barlborough, after prosecutors offered no evidence against them.
However, Royden Toon is now standing trial on a charge of affray.
Pc Emma Hallam told Derby Crown Court the 60-year-old acted "aggressively" while revving the chainsaw.
The builder and his 34-year-old son Gavin, both from Ingoldmells, Lincolnshire, started ripping tiles from the roof of The Whitehouse after a dispute with owners Julia and James Arthur over payment for work they had carried out, the jury heard.
Mrs Arthur was inside the property with the couple's two young children when the builders started destroying their work.
'Aggressive manner'
Pc Hallam said the children were screaming with fear as the Toons started throwing the red tiles to the ground on 21 September last year.
In a five-minute video shown to the jury on Monday, Royden Toon picked up the chainsaw and revved it as the officer confronted him on the roof, asking him to stop.
She told the court: "I explained to them I believed they were causing criminal damage and their response was to tell me to get off their ladder or they would throw me off as they said I had no right to be on it.
"He (Royden Toon) was aggressive in his manner. He was angry and there was no talking to him. He picked up the chainsaw and started revving the engine and was holding it in the air.
"All I recall was the noise and being frightened and wanting to get down. I felt fearful."
The trial continues.