Roof-row builder denies threatening Pc with chainsaw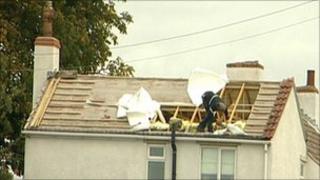 A builder has denied threatening a police officer with a chainsaw as she tried to stop him tearing apart a roof in a row over an unpaid bill.
Builder Royden Toon, 60, and his son Gavin, 34, of Lincolnshire, began tearing the tiles off the roof in Chesterfield, Derby Crown Court heard.
Pc Emma Hallam had climbed onto the roof to talk to him about the dispute.
Mr Toon, who denies affray, said he used the noise of the chainsaw to "drown out" the officer.
'Shouting at me'
Mr Toon, of Ingoldmells, said: "The police officer got to the top of the ladder and I started the chainsaw up. I don't like people shouting at me.
"I don't abuse people, I never have. I didn't like her shouting at me. She had no people skills at all, that was all it was.
"She (Pc Hallam) was possessed. You saw her in the witness box. I started the saw up, it was safe and I stood there holding it and revving it."
Earlier, Pc Hallam said she felt frightened during the confrontation on 21 September 2009.
The Toons set about ripping red tiles from the roof of the large detached property and throwing them to the ground, the court heard.
The builders believed they were entitled to carry out the demolition as they had not been fully paid for the extension and so the materials they had used still belonged to them.
Homeowner Julia Arthur was stuck inside her house in Barlborough with her two young children at the time.
Mr Toon and his son were originally charged with causing criminal damage but not guilty verdicts were returned after the Crown Prosecution Service offered no evidence against them.
Gavin Toon walked free but his father went on to face trial accused of affray.
The trial continues.