Builder cleared of chainsaw threat to Pc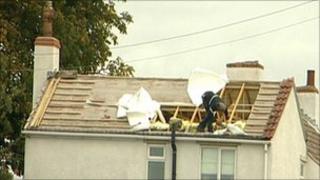 A 60-year-old builder has been cleared of threatening a police officer with a chainsaw while he tore apart a roof in a row over an unpaid bill.
Royden Toon, from Ingoldmells, Lincs, was accused of threatening Pc Emma Hallam as she tried to speak to him near Chesterfield, Derbyshire.
He began his chainsaw to drown out the officer's demands for him to come down.
A jury unanimously cleared him of affray and an alternative charge of threatening behaviour.
The owner of the house had called police when the builder started ripping tiles off the roof on 21 September 2009.
Mr Toon and his 34-year-old son Gavin, from Ingoldmells, near Skegness, said they were reclaiming the 18in red tiles as they were rightfully theirs.
As the pair set about dismantling part of the roof to the £450,000 house in Barlborough, the owner Julia Arthur was cowering inside with her two young children.
She called police and Pc Hallam arrived minutes later, scaling the builders' ladder to talk to Mr Toon.
The builder said he had not been paid nearly £9,000 of a £40,000 bill for an extension to the property in 2003.
Judge Andrew Hamilton told the builder of 40 years: "You are very fortunate you were not charged with blackmail because going to someone's house and removing their property because they would not pay their bills should not happen.
"People who have civil debts must settle these through the civil courts."
Both Mr Toon and his son were originally charged with criminal damage.
But just before their trial started, Judge Hamilton said such charges should not have been brought before the criminal courts and should be heard by a civil court judge.
As a result, the Crown Prosecution Service decided not to offer any evidence and the charges were dropped.