Cromford Mills site awarded £2m cash boost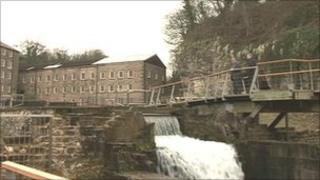 A Derbyshire heritage site has been awarded a £2m cash boost.
Cromford Mills - which boasts the world's first successful water-powered cotton spinning mill - has been given the money by the Heritage Lottery Fund.
The investment will help pay for a visitor and exhibition centre and conservation of the mill building.
It is hoped the award will help create new jobs in the area and further economic investment into rural Derbyshire.
The first mill at Cromford was developed by industrial pioneer Sir Richard Arkwright in 1771 and provided the template for mills across the world.
Emma Sayer, head of the Heritage Lottery Fund East Midlands, said: "The Cromford Mills complex was the birthplace of the factory system, and is therefore a vital part of our national heritage.
"This project will ensure the preservation of this iconic building by creating a centre where visitors will be able to learn about and explore the wider world heritage site."