'Attic sale' at Chatsworth House raises nearly £6.5m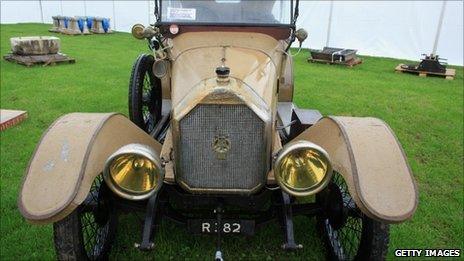 A three-day "attic sale" at one of England's most famous stately homes has raised almost £6.5m.
The Sotheby's auction at Chatsworth House in Derbyshire was organised by the Duke of Devonshire, who said he needed to "make some space".
Notable items sold on the final day included a 1915 Humber touring car known as the Yellow Peril, which went for £42,500 - ten times its estimate.
The auction had initially been expected to raise about £2.5m.
More than 20,000 objects were up for grabs, with the most expensive items - including a £565,250 18th Century marble fireplace - being sold on the first day.
Many of the items came from Devonshire House in Piccadilly, which was demolished in the 1920s, though some came from barns, servants' quarters and bedrooms, but not from the "core" of Chatsworth.
Among the other lots sold on Thursday were a ruby and diamond bow-shaped brooch, with the words "L'amour en fait le lien" ("love binds together"), which sold for £8,500 - more than 100 times the pre-sale estimate.
An American "silverball mania" pinball machine, valued at about £400, went for £1,875.
The Duke of Devonshire said: "There has been a tremendous amount of enthusiasm for these wonderful items, and it's great to know that wherever they may end up they have now been given a new lease of life.
"The funds raised have exceeded our expectations and will allow us to accelerate a number of projects at Chatsworth and our other estates, including improvements to buildings, new visitor experiences and green initiatives."
Sotheby's described the sale as an "auctioneer's dream".
Related Internet Links
The BBC is not responsible for the content of external sites.