Planning row delays sports disability centre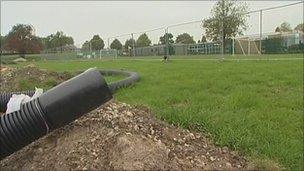 A disability sports college in Derbyshire has had to stop building an all-weather pitch because it has not addressed planning conditions.
Work was stopped at Swanwick Sports College after residents raised questions about drainage and traffic.
Derbyshire County Council said all pre-start planning conditions must be met before works can be resumed.
The school has won a £100,000 grant to build a centre of excellence for disabled sports.
Head teacher Keith McKenzie said it is paying £5,000 a week to cover contractors' losses and faces being stripped of its special status.
"It was a dream - it took three years effort to get sports college status and with that we got the grant from the government and a mandate to build a Derbyshire centre for disability sport.
"That is now is jeopardy and we are due for re-designation. We are in year two of a three year plan and we haven't met our target because this has been delayed."
The parish council said it was now trying to seek a solution which would meet the needs of all parties.
Related Internet Links
The BBC is not responsible for the content of external sites.