Spending Review: Council cuts 'to be 'front loaded'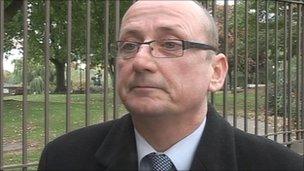 The leader of Derby City Council has claimed the government intends to "front load" the budget cuts for local authorities.
Harvey Jennings said the council had been planning to save 7.1% annually for four years from April 2011, as set out in the Chancellor's Spending Review.
But the Tory councillor said he had since found out that savings of about 14% will be required in the first year.
The authority now faced a "significant challenge", he added.
George Osborne announced the 7.1% annual funding cuts in his speech to the Commons on Wednesday, saying the coalition government was faced with an unavoidably challenging settlement because of the deficit it had inherited.
Conservative-led Derby City Council has already launched a voluntary redundancy programme as it seeks to shed 750 posts.
Mr Jennings said: "The Comprehensive Spending Review yesterday suggested we were going to receive spending cuts of 7.1% per year over the next four years.
"We've just found out that's actually not quite true, that it's going to be front loaded, which means that next year - the first year - we're going to have to achieve double the savings of 14.2%."
Asked if deeper cuts to services were now being considered, he said: "We will try obviously very hard to make sure services do not go. They will be delivered in a different way.
"We may commission the third sector - the voluntary sector - to undertake some of the work we currently do.
"And we'll be looking at all the different forms of delivery to make sure the services are still there."
The Local Government Association has estimated that the measures announced by the Chancellor will lead to the loss of 100,000 jobs at local authorities.
Answering questions from the public in Nottingham earlier, Deputy Prime Minister Nick Clegg said suggestions that the plans represented a "full frontal assault" on the public sector were completely wrong and called for a more "balanced" assessment of what the coalition was doing.
Related Internet Links
The BBC is not responsible for the content of external sites.