Safety recommendations for Speedwell Cavern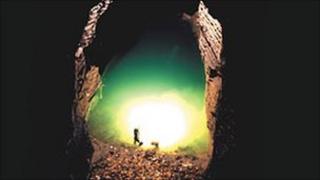 Safety recommendations have been made at an underground attraction in the Peak District after tourists were forced to wade to safety from a boat.
The Health and Safety Executive (HSE) said 17 people were led from the canal at Speedwell Cavern on 3 October.
No-one was hurt in the incident, which was caused when the boat became stuck due to high water levels.
The HSE said no enforcement action was taken as the flooding occurred in "unusual environmental conditions".
An agency spokeswoman said there was "nothing wrong in terms of the way the attraction was operated", but that a water level alarm system should be installed, along with communication devices and portable lights in the boat.
The owners should also re-examine emergency procedures, she added.
Visitors to Speedwell Cavern are taken in a motorised boat along a passageway formerly used by miners into a large limestone cave.
No-one from the attraction was available for comment.