Derbyshire County Council buys Chatsworth House prints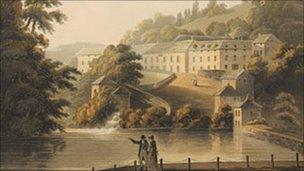 Six pictures from Chatsworth House's attic sale have been bought by Derbyshire County Council as part of an art project.
The aquatints by John Bluck, bought for £2,070, date from 1805 and show views of Matlock Bath and Dovedale.
The pictures are part of Enlightenment, a five-year project to help museums collect items relating to the Derwent Valley Mills World Heritage Site.
Chatsworth House's three-day sale raised almost £6.5m in October.
Leader of Conservative-run Derbyshire County Council, Councillor Andrew Lewer, said: "These are marvellous depictions of the Derwent Valley at a very specific point in history, a time when the area was becoming popular with tourists.
"The prints show the new buildings, exactly how the river was flowing and what people were wearing at the time which gives us an excellent insight into the past."
The Enlightenment project is a collaboration between Derbyshire County Council's Buxton Museum and Art Gallery, Derby Museums and Art Gallery and Belper North Mill.
It is supported by £200,000 from the Heritage Lottery Fund.
Related Internet Links
The BBC is not responsible for the content of external sites.