Latvia stag brawl man fined for resisting arrest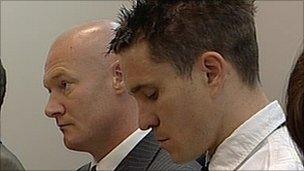 A Derby man accused of attacking a police officer in Latvia has been found guilty of resisting arrest.
David Birkenshaw, 34, and Matthew Neale, 36, were arrested after a stag weekend in June 2008.
During a trial last year, both were found not guilty, but the prosecution appealed against that decision.
Now Mr Neale has been fined £5,500 after being convicted of the lesser charge at a court in Riga, but charges were dropped against Mr Birkenshaw.
Mr Neale said he would appeal against the latest verdict and has 10 days to lodge this with the court.
Mr Birkenshaw, also from Derby, is trying to claim compensation to get back some of the £25,000 he spent fighting the case.
"I am completely free so I am happy now, but I feel for Matthew," he said.
The pair claimed to have originally misunderstood the charges against them.
After returning to the UK, they were extradited to Latvia in August 2009 after failing to pay a fine.
They spent two months in a Riga prison before being cleared in their first trial in October 2009.
Related Internet Links
The BBC is not responsible for the content of external sites.