Ilkeston Town fans to unveil plans to set up new club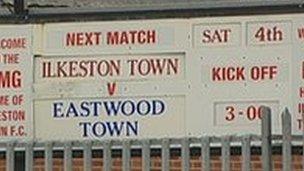 Fans of Ilkeston Town Football Club are meeting to present details of their plan to run the club themselves.
The Blue Square North club was wound up in the High Court last month over an unpaid tax bill.
Now a new supporters group is hoping to win a bid for the lease of the ground from Erewash Borough Council.
Supporter Duncan Payne said fans still wanted football in the area and a community-run club was the best way forward.
The club was wound up over an outstanding debt of £50,000 to HM Revenue and Customs.
Mr Payne said: "We're not in it for profit.
"This is where any money that the club makes immediately goes back into the football club and directly into the community.
"We're hoping it'll be successful, we can't be over-confident because there are 12 bidders, so there's a lot of us going for the same prize.
"But we're confident we've put together a good bid that truly reflects what we believe is right going forward for the new football club."
He said there was a "tremendous amount of support" for the plan.
The supporters group will present their business plan and bid details at a meeting at the New Manor Ground on Tuesday night.
The group will then make a bid for the lease of the ground to Erewash Borough Council on Friday.
Related Internet Links
The BBC is not responsible for the content of external sites.