Police praise helicopter redeployment plan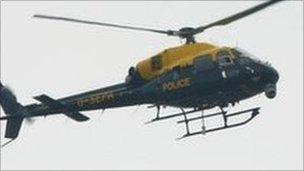 Police in Derbyshire and Nottinghamshire say changes to the use of police helicopters would bring a better service to the East Midlands.
The two forces at present share one helicopter which is based at Ripley in Derbyshire.
A proposed national police helicopter service would include another back-up aircraft in Derbyshire.
The two police forces said the changes would also help reduce their local policing costs.
Police helicopters are regularly used by forces chasing suspects on foot and in vehicles and can also be a vital tool in the search for missing people.
Under the new plans, the helicopter which serves both counties will become one of 23 aircraft operating under a "borderless" deployment basis.
An aircraft which is the nearest to a particular incident will be called on to attend, even if that incident is not happening in the county where it is based.
There are currently 33 police helicopters nationwide, but under the new National Police Air Service this will be reduced to 23 aircraft operating from 20 bases.
The project aims to nationalise police helicopters by the end of March 2012 with a projected saving of £15.27m.
Derbyshire police spokesman John Jameson said: "Currently, if our aircraft is unavailable, there is no cover for Derbyshire or Nottinghamshire unless we call for mutual aid from another force."
The decision to launch the new service and amalgamate police helicopters is in response to a review ordered by the government last year.
Related Internet Links
The BBC is not responsible for the content of external sites.