Derby mobile phone mast plan rejected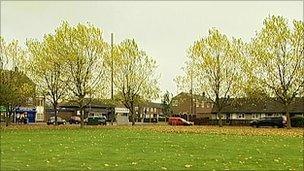 Campaigners are celebrating after an application to erect a mobile phone mast near a Derby park was rejected.
O2 and Vodafone wanted to situate the 15m (49ft) structure on Brackens Green, just off Brackens Lane in Alvaston.
City planners turned the idea down after some residents said a fourth mast in the area was an unnecessary eyesore.
Vodafone said that it would study the reasons for the refusal before deciding whether to appeal. But it said extra mobile capacity was needed.
Labour councillor Ranjit Banwait, who backed the campaign against the mast, said: "It is about local democracy. We had our say, we followed the consultation process and we have seen the result."
He added: "This is not about opposing mobile phones. I have a mobile phone, most people do, but the reality is that it was the wrong location and we have sent a clear signal we do not want a fourth mast in that location."
A spokesman for Vodafone said it had tried to blend the mast in as much as possible.
Related Internet Links
The BBC is not responsible for the content of external sites.