Disabled girl's parents hope for home treatment room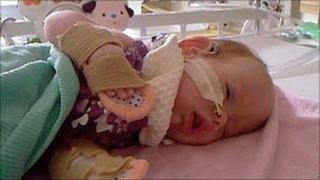 The parents of a severely disabled 18-month-old girl from Derby are hoping to build a downstairs specialist sterile treatment room for her.
Despite numerous tests, doctors still do not know what is wrong with Harriet Gregory, from Spondon. She cannot breathe without help.
Now her parents want to raise £30,000 so she can be cared for at home.
Harriet's father Jason Gregory said a customised room would help meet her medical needs and keep her alive.
Straighten spine
He said: "The room is very important, it will be like a mini-hospital within our own house.
"We're going to have to move some of the doorways and stuff like that, but essentially it's the room that we need for Harriet that will have her oxygen, all the equipment that keeps her alive, her medicines and so forth."
Harriet is hooked up to an oxygen cylinder, a machine to monitor her heart and a tube to feed her. She needs 24-hour care.
In October she underwent major surgery to straighten her spine in order to prevent the possibility of her internal organs being crushed by the curvature.
Since April, her parents have appealed worldwide for information that might diagnose her condition.
On Thursday a fundraising team from Inchcape Toyota started a 3,381-mile static cycle ride in aid of the Help Harriet Trust
They are aiming to cycle the equivalent distance from their Derby dealership to New York.