Architects needed for historic tearooms in Belper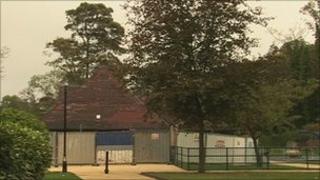 Architects are being encouraged by a local authority to compete for the chance to design the rebuilding of a Derbyshire venue created in 1905.
The Edwardian tearooms were a landmark in Belper's River Gardens, but have since fallen into disrepair.
Now Amber Valley Borough Council plans to develop a new building on the site and architects have until 28 January to submit designs.
Cabinet member Jack Brown said people wanted to see the venue in use.
He said: "Despite the constraints, there is still the opportunity to submit imaginative designs.
"The tearooms have stood empty in recent years and the public has expressed a real desire to see a suitable replacement.
"This is an exciting potential development that we hope will once again, become a focal point for the beautifully restored River Gardens."
Previously the council identified through consultation that there was public demand for a catering facility.
Industrialist George Herbert Strutt commissioned the original Swiss-style tea rooms.