Derbyshire travel problems over snow and ice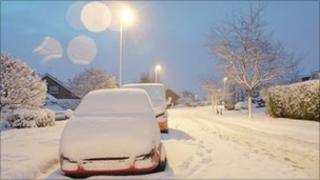 People are being warned to travel only when absolutely necessary as further snow and icy conditions are expected.
Roads in Derbyshire faced disruption all day while bus and rail services suffered with delays and cancellations.
Temperatures are forecast to fall as low as -8C (18F) with the A53, A54 and A57 shut because of snow and ice
More than 300 schools were closed during Wednesday with dozens already confirming they will remain closed on Thursday.
Derby Hospitals cancelled all their ambulances for non-urgent outpatient appointments - although all urgent operations have been taking place.
Persistent snow fall meant the authorities struggled to keep pace, with reports of drifts as deep as two feet (0.6m) in places.
Chris Poulter, from Derby City Council, said after the main routes have been gritted, they would target other trouble spots.
"Once we have those routes gritted twice a day, we will tackle areas where the public tell us there are issues, where we know historically there are problems.
"We try and focus on areas of heavy usage around doctors, hospitals and libraries, where people walk and drive to on a regular basis."