Fire forces Derby Westfield shopping centre alert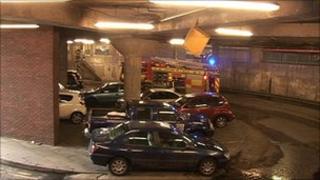 Hundreds of people have been evacuated from a Derby shopping centre after a fire filled part of the building with smoke.
Operators Westfield said the problem was caused by a car fire in the basement of the complex but it was quickly extinguished.
Shoppers have been allowed back into the centre but a large part of the car park remains closed.
The £340m complex was opened in October 2007.
Noel Doidge, who works at a shop in the centre, said: "I started to smell something, so I checked to see if it was anything in the shop and there was nothing.
"Then I turned around and there was a lot of smoke covering the food court.
"Suddenly a lot of people were getting evacuated and we had to close the shop but when we went downstairs there were no fire alarms going off and nobody knew what was going on."