Derbyshire Constabulary considers cuts to funding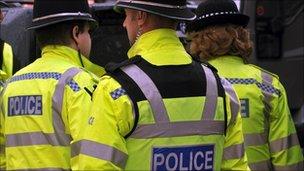 Derbyshire Constabulary's £5.5m budget cuts will provide a big challenge, a force spokesman has said.
But Terry Neaves, Derbyshire Constabulary's director of finance and business services, said the government's cuts were not unexpected.
The force's grants from the government will be cut by 3.8% for 2011/12, a reduction of about £5.5m.
It will also have to make more savings in 2012/13 as budgets will be cut by a further £7m, the government revealed.
"The funding settlement is in line with our expectations but nevertheless it provides a very big challenge to face such reductions," said Mr Neaves.
"We will now have to sit down and examine the budget closely with senior officers to work out how it will affect the organisation as a whole and the service we provide."
Earlier in December, Home Secretary Theresa May said the focus of police budget cuts would be on "back office" reductions.
She said: "We have been absolutely clear about the need for forces looking at these cuts to ensure that the cuts come from back office, from procurement, from IT provision and so forth.
"And that they do put a focus, as chief constables up and down the country are saying, on front-line policing, on the visible community policing which is of benefit to forces in terms of catching criminals but is also of course of benefit to local communities."
Related Internet Links
The BBC is not responsible for the content of external sites.