Brother may help solve Spondon girl's mystery illness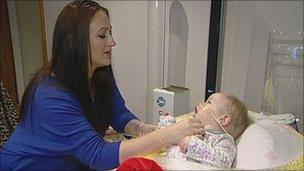 The parents of a severely disabled 19-month-old girl said they hoped her new brother may eventually help find a cure for her mystery illness.
Despite numerous tests, doctors still do not know what is wrong with Harriet Gregory, from Spondon, Derby.
Stem cells and blood from eight-week-old Michael's umbilical cord could be used in research or a transplant.
The children's mother Lesley Gregory said she hoped Harriet's condition could be improved in the future.
Harriet, who needs 24-hour care, is hooked up to an oxygen cylinder, a machine to monitor her heart and a tube to feed her.
She said: "We want to put [the stem cells] in her to make her better, to hopefully make her swallow at least. We know that there'll still be some problems with her, but the main thing is helping her to swallow, and improve her movement...
"[Michael's] just like a guardian angel really, because he's helping someone else. He's a hero."
Cord blood and tissue was collected from the baby's umbilical cord when he was born after tests done during pregnancy proved he did not have his sister's condition.
Steven Baines of private family cord blood bank Future Health said: "It's another evolving industry that we're in now. Currently we can treat over 85 diseases with chord bloods."
In October, Harriet underwent major surgery to straighten her spine.
Recently her family started a drive to raise £30,000 so she can be cared for in a customised downstairs room at home.
Related Internet Links
The BBC is not responsible for the content of external sites.