Ringleaders of Derby sex abuse grooming gang jailed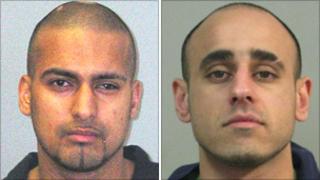 The ringleaders of a gang which groomed and abused teenage girls in Derby have been given indeterminate jail terms.
Mohammed Liaqat, 28, and Abid Saddique, 27, were found guilty at a trial in November of charges including rape.
At Nottingham Crown Court, Saddique was jailed for at least 11 years and Liaqat for a minimum of eight.
Many of the gang's victims were given alcohol or drugs before being forced to have sex in cars, rented houses or hotels across the Midlands.
Six other men have already been sentenced for their part in the abuse.
A seventh man was cleared of sex charges but pleaded guilty to being concerned in the supply of cocaine.
Judge Philip Head told Saddique: "Your crimes can only be described as evil," adding he was an "evil, manipulative and controlling" character who was a continuing danger to young girls.
'Girls' bravery'
He said the attitude of the pair was "sex at any price" as they and others embarked on a "reign of terror on girls in Derby".
Derbyshire Police Det Supt Debbie Pratt praised the victims for coming forward and said that "without their bravery we would not have seen the outcome we saw today".
Liaqat, of Briar Lea Close, Sinfin, was found guilty of one count of rape, two of sexual assault, aiding and abetting rape, affray and four counts of sexual activity with a child.
Saddique, of Northumberland Street, Normanton, was convicted of four counts of rape as well as two counts of false imprisonment, two of sexual assault, three charges of sexual activity with a child, perverting the course of justice and aiding and abetting rape.
There were 26 girls involved in the case, with the youngest 12 and the oldest 18.
During the trial, a 16-year-old victim told the court that she received a telephone call from a man she knew and after being taken to a petrol station to buy alcohol, she was driven to an isolated spot where she was raped.
Describing the ordeal, she said: "I tried to do everything I could to stop it so at that stage I just said 'yes'.
"I just thought if I tell him what he wants to hear, it will be done quicker."
Derbyshire Police said the girls were from a variety of backgrounds and urged all parents to be aware of the risks of sexual exploitation.
A report published after the gang was convicted said there were "missed opportunities" by agencies to help the girls.