Cat saves family from house fire in Lincolnshire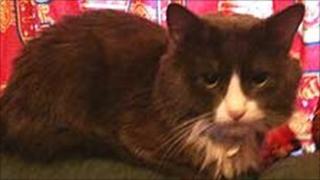 A cat saved a family from a house fire by scratching his owner's face to wake her up.
The blaze started in a pan in the kitchen at the property in West Pinchbeck, Lincolnshire, on 4 January.
Marie Smith said her 15-year-old cat Bandit scratched her on the face to alert her, allowing the family to call the fire brigade.
The kitchen was damaged by smoke but firefighters stopped the fire spreading to other parts of the house.
'Lucky family'
Ms Smith, 29, and her partner were fast asleep when the fire broke out.
She said: "Bandit scratched me to tell me about the fire in the kitchen. He has never done anything like that before.
"I saw the fire and woke David right away. We got the animals out and called the fire brigade."
The family has three dogs, five cats and four kittens as well as gerbils and hamsters.
Her partner David Howlett said: "The fire brigade said you was lucky because if the cat didn't wake you up you would have been dead as the smoke would have got in your lungs."
Lincolnshire Fire and Rescue Service said it installed two smoke alarms after the fire and urged all households to install alarms in their properties.