Ecclesbourne School teachers strike over academy plan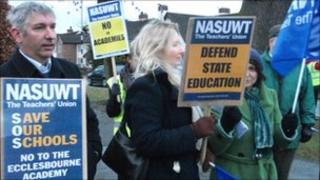 Teachers at a Derbyshire school have gone on strike to protest at proposals to turn their school into an academy.
Staff at Ecclesbourne School in Duffield walked out on a two-day strike, but officials said the school would remain open.
Head teacher Lesley Underhill said academy status would give the school more independence, but said a final decision had not been made.
Academies are funded by central government and have more independence.
'Exceptional' achievement
NASUWT teaching union spokesman Dave Wilkinson said: "It [academy status] is a threat to state education… and a form of privatisation from this government."
Board of Governors chairman Keith Wareham said the strike action was unnecessary as the issue had not been decided yet.
"The governing body will not be influenced by the extent of any industrial action - we will be influenced by the strength of the argument," he said.
One school in Derbyshire at Chellaston has already been granted academy status.
Union spokeswoman Paula Rowe said: "There is absolutely no reason to go to academy status - we have managed to achieve exceptionally well here on behalf of the students."