Ecclesbourne School votes to become academy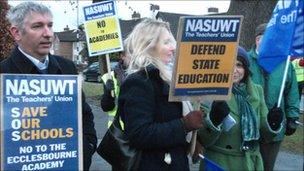 Governors at one of Derbyshire's most popular state schools have decided to opt out of local authority control, despite opposition from some teachers.
Ecclesbourne School in Duffield will become an independent academy, funded directly by the government.
School officials said the decision was taken unanimously and the change was the best way to secure more funding.
Some members of staff took strike action over the proposal, saying their jobs would be less secure.
John Holmes, from the National Union of Teachers, said: "We have very strong fears for the future of our members in the school.
"We have a very clear reassurance from the head and the governing body that teachers' pay and conditions will be maintained and they will follow the national pattern.
"But an academy has no obligation to do that."
Mr Holmes added the school had done exceptionally well within local authority control and he saw no reason to change this.
Related Internet Links
The BBC is not responsible for the content of external sites.