John Port teachers strike over academy plan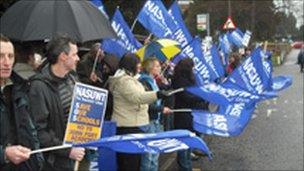 Teachers at the biggest secondary school in Derbyshire have gone on strike to protest plans to turn the school into an academy.
About 80 staff at the 2,200-pupil John Port School in Etwall are on strike.
Pupils studying for exams will attend school but the remaining 1,400 will have the day off.
The school said conversion to an academy would mean £1m of extra funding, but teachers are worried about changes to pay and working conditions.
Chris Lines, president of the National Association of Schoolmasters Union of Women Teachers (NASUWT), said: "We are doing this to protect state education - which we believe should be democratically responsible to the community where the school is.
"We are showing the community and the governors that the staff are firmly in favour of remaining within the local authority family of schools."
Head teacher Wendy Sharp said: "We have assured all of our staff that we are consulting widely on this - and there is still no final decision yet."
Academies are funded directly by the government and not via the local authority.
The walkout follows two one-day strikes over the same issue by the NASUWT at Ecclesbourne School, Duffield, in January.
John Port School and 14 other schools in Derbyshire want to convert to academies outside local authority control because they believe it will help them to become better funded.
Chellaston School in Derbyshire converted to an academy on 1 December and Kirk Hallam Community Technology College intends to change over on 1 March.
Related Internet Links
The BBC is not responsible for the content of external sites.