Buxton fire deaths trial hears mother's 999 call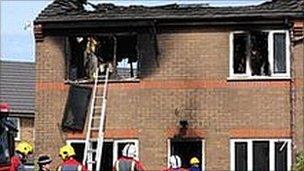 A 999 call made by a mother accused of leaving two of her children to die in a fire has been played to a court.
Fiona Adams, 24, escaped with her baby son from the blaze at Edale Way in Buxton, Derbyshire, last April.
Nottingham Crown Court heard a recording of her calling for help, with a child screaming and a smoke alarm going off in the background.
Ms Adams, who denies murder, told police she had thought Niamh, five, and son Cayden, two, had already got out.
As the 999 recording was played in court, Ms Adams buried her face in her hands.
The court also heard police interviews in which she was asked why there was a three-minute delay between the call and her jumping to safety.
She replied that she was confused and strongly denied the suggestion she deliberately left the two older children behind, describing them as "my life".
The prosecution alleges Ms Adams started the fire in a laundry basket to get back at her partner.
It called a burns expert who stated injuries to her hands supported this idea.
But the defence pointed to eyewitness evidence that flames were coming from the window from which she jumped.
It was suggested that these could have caused the burns.
Ms Adams also denies charges of arson and causing grievous bodily harm to her eight-month-old son.
Related Internet Links
The BBC is not responsible for the content of external sites.