Teenager from Alvaston planning her own funeral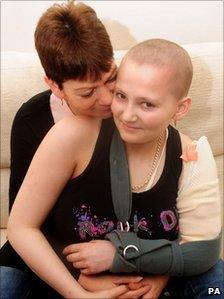 A Derby teenager is planning her funeral and how she wants to spend her final months after learning her bone cancer is untreatable.
Donna Shaw, 17, from Alvaston, was diagnosed with Ewing's Sarcoma in February 2010.
Despite surgery and chemotherapy, she has been told nothing more can be done.
Describing her as an "inspiration" to everyone around her, Donna's mother, Nikki Parker, said her daughter was planning every detail.
Ms Parker said: "She has chosen everything, her songs, she has got a video of her she wants playing at the funeral, and the colours of the flowers."
The 45-year-old, who has given up her restaurant job to be Donna's carer, added: "It's actually made it easier... I know that seems silly, but because she is being as strong as she is, it does help.
"These are a 17-year-old's dying wishes and this is what will happen when the time comes."
She said the teenager underwent surgery to remove 80% of the main tumour in her shoulder, then underwent chemotherapy, but in January doctors said the chemo was not working, and the cancer had spread.
"She had a cry, and swore and shouted and then came to terms with it," her mother said.
The family do not know how long Donna has left to live but there are plans for her to see Westlife in concert in March and skaters Torvill and Dean in April if she is well enough.
She said planning her funeral keeps her strong but added: "When I go to sleep I'm quite scared, I'm not scared of dying, I'm scared to leave my family.
"Its hard not knowing when but I'm a fighter, I have a niece due in April so I'm still going to be here then."