Buxton fire death children 'disappeared in smoke'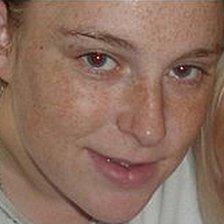 A mother accused of killing two of her children in a Derbyshire house fire has told a court she lost sight of them in her smoke-filled bedroom.
Fiona Adams escaped with baby son Kiernan, but daughter Niamh, five, and elder son Cayden, two, died in the blaze at Edale Way, Buxton, last April.
She said she was about to throw them to safety, but when she turned around "they weren't there anymore".
The 24-year-old denies two charges of murder at Nottingham Crown Court.
The prosecution claims she started the blaze deliberately to create "drama" to get attention from partner James Maynard, who had cheated on her in the past.
But Ms Adams said their relationship was "back on track" and that she "had never wanted to hurt" her children.
She told the court she had been drinking lager earlier that evening with Mr Maynard's brother, who was visiting.
Later, as she was getting ready for bed, she said the smoke alarm started to go off.
She said: "I went straight out of my bedroom, the banister is directly outside the bedroom.
"It was just like an orange glow coming from downstairs."
She told the jury she took Niamh and Cayden, who shared a bedroom, into her room because their bedroom windows were locked, whereas hers were unlocked, with a trampoline below.
"I remember being stood at the window, and then I opened the window," she said.
"I just remember the smoke getting worse and worse. As the smoke got worse the less I could see.
"They (Niamh and Cayden) were stood with me. I had Kiernan in my arms."
Ms Adams said she opened the window to "chuck the children out of it", and that she remembered letting go of Kiernan.
"When I turned back round, they weren't there anymore," she said.
"They just weren't there."
The court has previously heard that Cayden's body was later found not far from the window ledge and Niamh's was also nearby.
Asked by defence counsel Shaun Smith QC if she chose which of her children would live or die, she said: "That's wrong. I would never choose between my children, I loved them all the same."
The court also heard that she phoned police earlier that evening after hearing banging outside, but officers called to the house found no sign of a disturbance.
Ms Adams denies an additional charge of grievous bodily harm and one of arson with intent.
Related Internet Links
The BBC is not responsible for the content of external sites.