Derbyshire council staff 'forced to retire', says union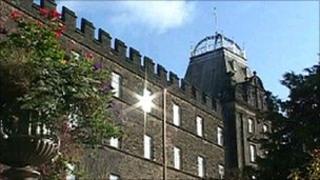 Derbyshire County Council has been accused of forcing some older workers to retire before new employment laws come into force later this year.
The Unison union said several of the authority's 548 staff aged over 65 had been given four weeks' notice.
The Tory-led council said 222 of the workers had indicated they wanted to retire, while the remaining cases would be decided individually.
From 6 April, bosses will not be able to compulsorily retire staff over 65.
Presently, firms can use Default Retirement Age (DRA) laws to dismiss staff, but the legislation is being phased out.
Between 6 April and 1 October, only those people who were told before 6 April, and who are due to retire before 1 October, can be compulsorily retired using DRA.
Finally, after 1 October, employers will not be able to use DRA to force staff to retire.
'Absolutely diabolical'
Karen Bown from Unison in Derbyshire said: "What is actually happening is that people are getting letters saying 'thank you very much for your long exemplary service but you will be leaving in four weeks' time'.
"There's absolutely no regard for their service. I've got managers ringing me and saying what am I going to do when this member of staff is gone?
"The way staff are being treated is absolutely diabolical."
John Harrison, the council's cabinet member for finance, said: "What we've done is written to all those involved and asked them do they wish do go on working beyond age 65 or not?
"And in response to that letter, we've already had responses from 222 to say that yes they do wish to retire at age 65.
'Not discriminating'
"In the case of the remainder we are deciding on a case-by-case basis having regard to the best interests of the authority and the workers whether or not we need their services beyond age 65.
"And that has been the situation for the past five years under the 2006 regulations."
Asked whether some staff were being given four weeks' notice, he said: "I would think that is quite definitely incorrect.
"Under employment legislation all employers are required to give at least one week's notice for every year of service up to a maximum of 12 and as far as we know we're not in the business in any way of discriminating against or victimising this group of people who are on the cusp of the change in legislation".
The county council has warned it may have to cut 2,000 jobs over the next four years because of government spending reductions.