Council greenhouse in Derby to close in cuts drive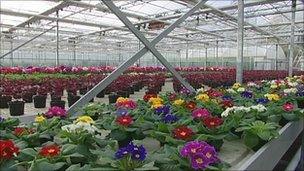 Derby City Council's cabinet has approved the closure of its main glasshouses in a bid to save £90,000.
The closure of the Markeaton Glasshouses will see fewer flower beds replaced with new plants each year.
The move is part of a plan to reduce ground maintenance in the city by £325,000 this year.
The Conservative-led council, which aims to save a total of £27m over the next two years, has had some private sector interest in the glasshouses.
The cuts in ground maintenance will mean a reduction in grass cutting and seasonal flower beds.
The glasshouses also provide flower decorations for civic buildings, hanging baskets and shrubs for city property.
The cabinet said a decision on demolition of the greenhouses would need to be made soon as it would be susceptible to vandalism if left unoccupied.
Ten gardening and glasshouse staff who are risk of redundancy are being consulted about their future.
Cabinet member for neighbourhoods Chris Poulter said: "With not having to produce so many flowers, it makes the production here not viable and we can buy the plants from other sources at a cheaper price."
The council has estimated its overall cuts could result in 570 job losses, but the figure was only an estimate, the council said.
Related Internet Links
The BBC is not responsible for the content of external sites.