Swadlincote gets a £2m town centre revamp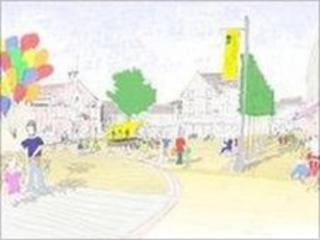 A £2m project to upgrade a Derbyshire town centre has been completed after two years of work.
New seating, lights and trees have been installed in The Delph, West Street and Ernest Hall Way in Swadlincote.
South Derbyshire District Council leader Bob Wheeler said the work "complements its Victorian and Edwardian character".
He said the West Street revamp was recently shortlisted for a national urban design award.
Grants for the project came from Derbyshire Economic Partnership and the Homes and Communities Agency.
Frank McCardle, chief executive of South Derbyshire District Council, said: "We ripped up pretty well everything in the town centre and replaced it with lovely yellow York stone."
The work included restoration of the listed town hall building and addition of wrought iron railings and more CCTV cameras.