Governors approve John Port academy plans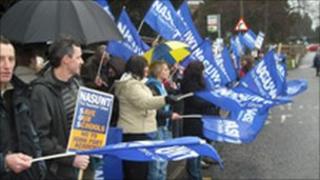 Governors have approved controversial plans to turn Derbyshire's largest secondary school into an academy.
The proposals for 2,200-pupil John Port School in Etwall have prompted a series of one-day strikes by teachers from the NASUWT union.
It is expected to become an academy on 1 April, after the scheme was given the go ahead at a meeting on Friday night.
NASUWT members have vowed to press ahead with two further strike days on Monday and Tuesday.
The union said the academy plans would have "profound implications for pupils, parents, the local community and staff".
Chris Keates, General Secretary of the NASUWT, said: "Any change of this nature should be on the basis of raising standards of education.
Government funded
"Yet all evidence shows that structural changes, like academy status, do not raise standards."
Speaking on Friday night, Barry Whyman, chair of the school's governors, said he hoped there would now be no further industrial action.
"I am pleased that we have made the decision and removed the uncertainty under which we have been working," he said.
"I am looking forward to signing the funding agreement in the next few days. I hope tonight's decision means that the strike action will now cease.
"I am sure our students and their families will be delighted and relieved to return a normal school life."
Academies are funded directly by the government and not via the local authority, giving them more freedom over their finances, the curriculum, and teachers' pay and conditions.