Derbyshire letter collection opened up to the public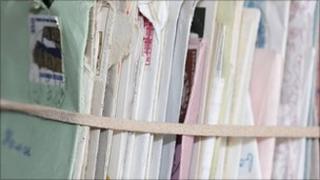 Letters dating back to the 14th Century are to be shared with the public at two events in Derbyshire.
Derbyshire Record Office is to display some of the most interesting missives from its archive at Matlock's County Hall and Buxton Museum.
The Thank You For Your Letter events feature correspondence from various wars, business letters and declarations of love.
Experts will be on hand to give more information about the items on display.
Visitors are also invited to bring their own letters along to read aloud.
'Funny and moving'
The oldest letter, from 1394, features merchant John Gresley informing his customers he has "lost his seal" and warning them not to trust any letters purporting to be from him.
Another set shows an exchange between Derbyshire RAF man Harry Dance and his fiancee Monica Soppitt during World War II.
Archivist Mark Smith said: "They discuss plans to celebrate Monica's birthday and a precious opportunity to meet.
"The letters are funny and moving but always evocative of the era."
Also on display will be letters from George Bernard Shaw and Lord Byron.
The free events take place at Buxton Museum from 1400-1600 GMT on Thursday and at Derbyshire Record Office from 1400-1600 GMT on Friday.