Husband mourns murdered 'pocket princess' Jia Ashton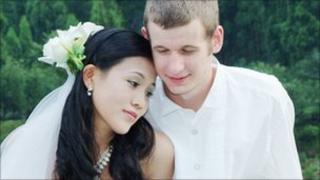 The husband of a woman found dead in Derbyshire woodland has spoken of his devastation over the loss of his "pocket princess".
Jia Ashton's body was discovered in Sleetmoor Woods near Somercotes on 13 March, days after she went missing.
It is thought the 25-year-old economics graduate was murdered after leaving work at chocolate-maker Thorntons.
Matthew Ashton said his wife's death had "touched the heart of her adoptive community".
In a statement, he said: "We have lost a leader, as well as a wife and a daughter.
"As a family and as a community we must spread the word about this tragedy and make sure that the memory of Jia, and what has happened, never dies."
He has urged anyone with information about the killing to come forward so the culprit "can be brought to justice swiftly and we can all start to pick up the pieces of what they have done".
Mrs Ashton studied economics at the University of Warwick between 2004 and 2007.
Professor Jeremy Smith, from the department of economics, described her as a "very good, conscientious, and hard working student", who had been an active member of the university's Chinese Society.
He said: "She had boundless energy and enthusiasm for everything that she undertook and she did a fantastic amount of different things in her time at Warwick."
Mrs Ashton was last seen at about 1700 GMT on 10 March when she left the Thorntons' site in Swanwick and walked along a path in the woods known locally as the Yellow Brick Road.
Derbyshire Police believe she was assaulted and killed that day.
There was no evidence a weapon had been used and no apparent sexual assault, said detectives.
Det Ch Supt Steve Cotterill said he thought several key witnesses who were in Sleetmoor Woods between 1600 GMT and 1900 GMT on the day of Mrs Ashton's death had yet to come forward.
Officers would particularly like to speak to a motorcyclist seen in the woods that day, he said.
Detectives found Mrs Ashton's handbag in the area on Saturday, and the contents are due to undergo forensic tests.