Derbyshire railway cable theft gang jailed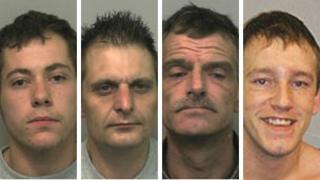 Four members of a gang who cost Network Rail almost £1m by stealing copper cables from rail lines have been jailed.
The men from Heanor and Langley Mill targeted tracks across England, causing train delays and cancellations.
Nottingham Crown Court heard they made more than 150 trips and stole 27 tonnes of cable over an 18-month period.
Jailing the men for four years each, the judge said they had potentially put many lives at risk.
Network Rail claimed the crimes cost it £933,896 in repairs and other charges.
The thefts also resulted in train delays totalling more than 320 hours and some cancellations.
Lives endangered
The group's thefts included earthing cables, designed to protect workers repairing the line, the court heard.
Thomas Ingram, 23, of Lockton Avenue, Heanor, Ian Radford, 39, of Starthe Bank, Heanor, David Gatfield, 43, of Stainsby Avenue, Heanor and Scott Clark, 26, of Horsley Crescent, Langley Mill, were each jailed for four years.
They all pleaded guilty to conspiracy to steal and conspiracy to covert stolen property at a previous hearing.
The judge told them they had put the travelling public in positive danger and said they could have derailed a train, with the horrendous consequence of loss of life.
Lee Bamford, 34, of Calladine Court, Heanor, failed to appear in court and will be sentenced later. Martin Harriman, 23, of Watkinson Street, Heanor, received an eight month sentence suspended for two years and must do 150 hours unpaid work.
Detectives found the gang visited four metal recyclers in Ilkeston, Alfreton and Langley Mill, in order to sell on the stolen cable, often using false names and identification.
Their investigation traced the gang's activity back to 2008 and the men were charged in September 2010.
Ch Supt Mark Smith of British Transport Police said: "The criminal behaviour of this gang resulted in countless problems for commuters as the rail industry was seriously compromised by the thefts which were carried out in a huge geographical area - from Watford in the south to Stockport in the north."
Outside court he added: "This group of individuals were extremely determined.
"They had gone to considerable lengths of organisation in terms of equipping themselves with maps of the areas, doing reconnoitring missions, using satellite navigation technology to find the locations to attack - a significant operation."