Mascot Fight prepare to release new album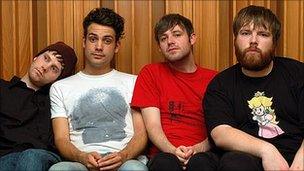 Derby's Mascot Fight say they are "optimistic" their new album will be out in the summer.
Abscond and Hey Presto - named after the lyrics of one of the album's songs - is nearing completion after several months of work.
The release will feature a mixture of new songs and some old favourites.
"We've been recording it on and off for about a year - although the first few months were a bit sporadic, " explained singer and guitarist Sean Dodds.
"A lot of it was recorded during the night when things were a bit quieter and that's probably reflected in the tracks because some parts are a bit weird."
The group have been compared to Blur and Belle and Sebastian in the past and the new album includes some unusual song titles such as Ted Danson Dream and Vanuatu.
Now the four band members have to decide on a final tracklisting before sending it off for mastering.
Sean said: "Some of the songs are brand new and others have been kicking around for years but hopefully it will be coherent as an album.
"In total we recorded about 30 songs - although some if it isn't fit for public consumption.
"But there are some songs which are definitely going on and some that definitely aren't - and then there are a lot of others in between that."
Related Internet Links
The BBC is not responsible for the content of external sites.